Beetroot Benefits: 6 Reasons To Eat Beetroot
Health benefits of Beetroots, Beetroots for healthy heart, Beetroot juice helps to lower high blood pressure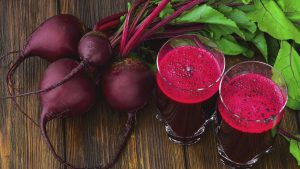 Beetroots are rich in Vitamin B, it helps for skin health and hair growth. Including 1 glas Beetroot juice in our diet controls the high blood pressure and also improves the memory power.
No Fat :
Beetroots doesn't contains fat as it helps us to reduce the desire of eating sweet. It will be beneficial for those who are dieting.
Boosts the Energy :
Beetroots contains Carbohydrates and it helps to give instant energy.
Folic Acid :
Folic Acid is essential for women as it helps to develop the fertility system. Instead of taking pills, Including Beetroot in your diet is the natural way of gaining folic acid in our body.
Nutrition :
Many Parents feel that we are lack in providing nutritious food to the children, So Beetroots are the best nutritious foods as it contains Vitamin A, C, Magnesium, Calcium, Minerals, Potassium, Iron helps to provide the required energy and supplements to our body.
For Healthy Heart :
Are you suffering from High blood pressure? then take 1 glass of beetroot juice daily. It Contains Nitrates, when it mixed with blood it produces nitric oxide which helps to reduce the blood pressure so can we yield good healthy condition heart.
Beetroot Juice :
Taking Beetroot juice daily gives lot of benefits to us. It just contains not only Nitartes, these are the rich sources of Vitamins, Minerals, Amino acids. It also have the characteristic of fighting against cancer causing agents.